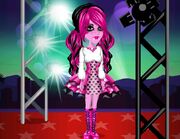 Cutie Star Pup 101 is a normal user on MovieStarPlanet (USA) She is a level 22 (??)
Write the first section of your page here.
About & History
Edit
She joined Moviestarplanet in 2014 but was mainly on her UK account, which was deleted for an unknown reason. Her new UK account is the same username as her US but she is not on there often. She got 1 year star VIP sometime in august.
Usual Apparance & Style
Edit
Her style is usually girly but can sometimes be more goth. She makes looks that are mostly girly or sometimes just for movies.
Artbooks & Movies
Edit
She usually makes random artbooks such as things like "for YouTube", "Idk", etc. 
She seems to enjoy making series on there. She sometimes makes short movies, too. She doesn't have many movies.
•She has a YouTube which can be found right here: https://m.youtube.com/#/channel/UCx1byROP3082_vh2_i-cINA
•She is the owner of Team Grace and calls herself "Queen Grace"
•She is known for accepting all friend requests, No matter who you are. She usually answers all messages
•She was inspired by Ladygoogoostar
•she has over 560 friends
•cat fat2 is her sister in real life.
•Her favorite game is UnderTale.
•She loves the show "Scream Queens"
•Her favorite food is ramen
•Her favorite drink is tomato juice
•Her favorite singer is Melanie Martinez and her favorite band is Panic! At The Disco. 
•Her favorite song is "Emperor's New Clothes"
•She has a turtle named Fred
•She has never had a true boyfriend in real life or on msp
•Her favorite user on msp is mybeau
•She has a backup account which is "Cutie star pup 101 (backup)"
•She hates bananas
•Her birthday is August 3rd.
•She was born in Colorado